Ya pueden encontrar en
Bomboro
la canción que escogí para este miércoles. Se trata de un remix de DJ Shadow a
The Gloaming
, canción de
Radiohead
del
Hail to the thief
. Por eso hoy mismo, aquí en su blog de desconfianza, les presento dos piezas más del señor, uno de los mejores DJs experimentales del mundo. Ambas pertenecen a
Endtroducing
, el álbum que lo volvió reconocido en el mundo y sus alrededores. Para saber más de Shadow, lean el texto que escribí allí, pa´ no repetir lo que ya puse por allá.
Las canciones son:
DJ Shadow-The number songDJ Shadow-Building steam with a grain of salt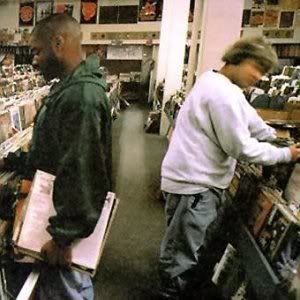 Shadow ha influenciado a mucha gente, entre ella a
Brian Udelhofen
, un geólogo y estudiante de leyes, quien entrenó durante meses al grupo de percusiones de la preparatoria de Minnetonka, en Minneapolis, para interpretar piezas de Endtroducing. En
este video
, que fue tomado en mayo de este año, se puede apreciar cómo interpretan justamente
Building steam with a grain of salt
. El video es corto y no aparece toda la interpretación, que también incluye
Changeling
. Intentamos subir el video completo a nuestro servidor pero pesa 67 MB y causaba problemillas, así que aquí está el
link
al Internet Archive, en donde pueden descargarlo completito y sin cortes comerciales. Los chicos de la orquestita se la rifan y en un momento dado el sonido es muy parecido al logrado por Shadow por medio de sus samples. Una delicia estudiantil. Ojalá a los niños de las secus de aquí los pusieran a interpretar piezas tan chingonas y ya hicieran de una vez por todas las pinches flautas Yamaha a un lado.

Y ya saben que me encantan sus comentarios. Qué padre que este humilde blog los impulse a dejar sus opiniones, son súper, lo máximo, mi hit.
Enjoy!