Sí: pasan de las 12 de la noche del sábado y no estoy metido en un antrucho bebiendo. ¡Soy un hombre saludable!
Como me acabo de dar cuenta de que, al revés de como pensaba, NO ESTOY A PUNTO DE ACABAR la chamba que me ha tenido culiatornillado por meses, decidí darme un descanso (y los descansos que se da uno mientras trabaja frente a una computadora, se llevan a cabo precisamente frente a ella... tenemos todo a nuestro alcance).
Al grano: den click en la imagen para que vean una animación en Flach basada totalmente en
Weapon of choice
, el videito de
Fatboy Slim
dirigido por
Spike Jonze
, solo que con una
stick figure
en el papel de
Christopher Walken
. Este link se lo debo a Agusto Bomboro.

El segundo es un link para que puedan ver a Gorillaz "en vivo" para los MTV Europe Awards. Como yo no tengo televisión por cable, para mí es una novedad, ustedes que sí seguramente lo han visto hasta la nausea en la altisisísima rotación absurda que le dan a los videos en ese canal, pues ya saben, pueden dar click o no. Me vale madres. Además, I do not want my MTV! Lo que impresiona no es ni siquiera la animación que en un lado leí cómo la hicieron pero ya se me olvidó; sino el grado de imbecilidad del güey ese que los presenta. Chales, hasta parece mexicano, me cae.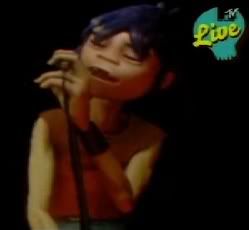 El último video, también musical, es de la Always Kangaroo Alliance, que produjeron un video para
Of Montreal
, específicamente para la super alucinante
Wraith pinned to the mist and other games
. También cliquién la imágen y la magia del internet los llevará al site de la Alianza, donde nomás tienen que pucharle en donde dice Work y el video, también por la magia del internet y los polvos mágicos de los discípulos de
Jorge Flores
, comenzará a transmitirse.

Si todo esto no les es suficiente y su vida de oficinistas les exige más (aparte de sus bolsitas de cacahuates, gomitas y su osito-clip en una rosa de tela con rocío de silicón),
aquí
está el linc que me dio un día Strangel Bomboro, y es de juegos para gente emprendedora como ustedes.