1. Nada, que pareciera que se me había olvidado que tenía mi blog de
Enfermedad Social
, así que subí mi texto sobre Diane Arbus.
¡Diane Arbus!
¡Diane Arbus!
¡Diane Arbus!
Buscando imágenes para ilustrarlo, me topé con el sitio de Pino Antonelli, autor de la siguiente ilustración: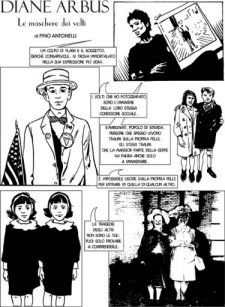 En su sitio se pueden ver más cómics a propósito de otros fotógrafos, como Tina Modotti, Josef Koudelka y Jan Saudek.
Storia della fotografia a fumetti
, se llama.
2. Si quieren ver cómo son en el tiempo presente simple
las famosas gemelas de la foto de Arbus
(imagen que, al parecer, influyó en otras gemelas famosas; no, no
Ivonne e Ivette
, sino
aquellas de The Shining
) cliqueén
aquí
.
3. Apenititas acabo de actualizar mis ilustraciones, biografía y datos en la Guía de Ilustradores de México y España, el sitio por el que, supongo, fui invitado a participar el año pasado en ConSecuencias. Mi carpetita antes estaba bajo mi horrible nombre verdadero, pero ahora me pueden encontrar por
Blumpi
. Den click
aquí
, échenle un vistazo a mis ilustraciones y cómics y, si tienen algo que opinar, ya saben.
4. Hablando de mis ilustraciones, he subido mi primer ilustración para
Illustration Friday
. Esta página es de
Penelope Dullaghan
, y se trata de esto: "Illustration Friday is a weekly illustration challenge. A topic is posted every Friday and then participants have all week to come up with their own interpretation". Me suscribí al sitio hace un buen, pero me daba miedo y pena (la neta), así que hasta hoy hice mi primer dibujo. Den
click
aquí y busquen mi dibujo, que es el número 534 de la lista. El tema de esta semana fue "Spotted". Mi dibujo está en mi blog de imágenes, el
Blumpi Graphix Machinery
que, como mi página personal de ilustración ya está en proceso de materializarse, usaré para subir sketches y mis propuestas para I.F. El sitio no es sólo para ilustradores profesionales y todo mundo puede entrar y subir sus propuestas gráficas, lo cual es bueno y malo al mismo tiempo.
Eso es todo por hoy, mis amigos. Los amo, son super lindos, valen mil, son mi hit, híper lo máximo.